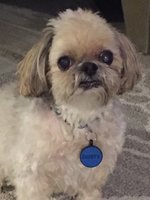 Dusty Wieser
DUSTY WIESER - 2004-2020
Born August 4, 2004, Dusty left his loved ones on November 21, 2020.
For all 16+ years of his life, Dusty was a constant faithful companion.
He was there for us in times of joy and times of sorrow.
His favorite activity was playing fetch with a tennis ball.
He loved long walks and napping in the warm sunshine.
He lived the very best life and will be missed deeply by many…
most of all his human parents.
You will be forever remembered in our hearts.
All our love dear Dusty….Until we meet again.