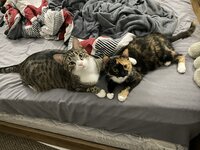 Pumpkin Wilson
"Today I say bye-bye and thank you, to one of the best kitties out there.
Thank you, Pumpkin for always being you. The late-night laser chasing when I was on second shift. For catching that mouse and holding him down till I got up.
For the hugs and kisses, for the paws under the door and the little section of carpet you pull under the door. There's so much more that words simply can't describe you.
Thank you, Pumpkins for all you did. You will be missed so much by us all. Love you Pumk, rest well my Pumkintator, I'll always think of you"