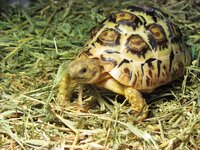 Sherman Douglas
As a Tortoise Sherman was casual in everything he did. Some would say that a tortoise is slow.
That can be true, but Sherman was fast to work his way into our hearts.
I remember the 1st time I got him he fit in the palm of my hand.
Fast forward to the present and he was twice the size of a football.
He will truly be missed, but I know he is enjoying neverending fields of green where he can roam and graze freely all day long.
Until we meet again, take care, my handsome man.