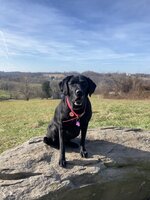 Alu Lee
How to Name a Dog
Some people call them Fido
While others name them Rover
Some choose fancy names like Dido
Or beautiful ones like Clover
But whatever we choose to call them
We love them all the same
And so, I ask a question most solemn
Namely, what is in a name?
In truth, names are not that important
They can be simple or silly or fun
Because the one thing each name says more than
Any other thing is "love."
"A gentle soul who loved snacks, hikes, hammocks, belly rubs, and warm laps to lay in. Forever our ray of sunshine. Love you LuLu."
~ The Lee Family