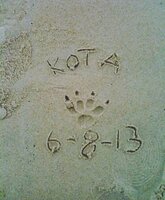 Kota Golder
"The day your Name was written in the sand"

While enjoying a day at the beach, on 6/8/13, we wrote the name "Kota" in the sand. Little did we know that two months later we would be introduced to a female Rottweiler puppy that we would make part of our family, who happened to have the same birthdate as the date of when we wrote your name in the sand. Thus the adventures began...

Kota was so full of life. Very adventurous and curious about everything. Nothing went unnoticed with her. From a change of clothes to something new in the house, she noticed! She would have to investigate.
Always happy to see us! Even if we were out of sight for just a few seconds, she'd be so happy to see us again and wiggling and waggling all over the place. She was very friendly and loving wanted to say Hi to everyone she'd see.
She also knew when we needed a laugh, and boy could she make us laugh! She was a very strong, athletic and agile girl. She ran so fast that we decided to give her like a Racehorse nickname, "She's like the Wind".

Her favorite treats consisted of: Kongs filled with either coconut oil or peanut butter. Bully sticks and raw bones. She also had a love for cheese and was more than willing to help us eat whatever we were eating.

Her favorite past times included:
Walking, at the mere mention of the word "walk" she was ready to go. Dribble her ball around the backyard (she would love for you to make a fuss over her and she'd show off even more with how she could dribble and run) she enjoyed chasing bunnies and squirrels. She was convinced that she could leap into the sky to catch a turkey buzzard. She would dig up rocks to gift us with. She loved to search & sniff out treats that we would hide for her. Her annual Easter Egg hunts. She loved to supervise Dad while he was tinkering on stuff. She also loved to dance & twirl with Mom. She enjoyed snuggles on the couch while watching TV and she loved to be tucked in with bedtime stories, songs and prayers.

She added so much life to our home. She made our house a home and us a family.
She is deeply missed, but we know that we'll be reunited one day and what a reunion it will be. Until then, your love and memories surrounds us. We love you! Our sweetest and goodest baby girl.