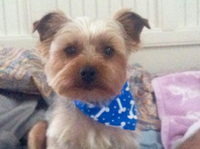 Buddy Gendrachi
Buddy Gendrachi, aka Buddy Boy, Usheini, & My Good Boy, passed away on Friday, April 22, 2022 in his Mom's arms.
Buddy was over a year old when he joined the family on April 12, 2015. Because he was raised with several Yorkies, he was not used to people. He was extremely shy and he preferred to hide behind the couches until he slowly gained his family's trust! This would also explain why he hid his prized possessions, toys, & bones, up to the very end.
Buddy, as short and stout as he was, always protected his family! He barked when he heard a noise or knock at the door, to save them from the pool water; and when he strutted the perimeter of our home; he let it be known that he was there. Although Buddy acted fierce, he would run away on anyone's approach. He was petrified of storms, thunder & lightning, and he would jump in his Mom's arms as soon as he felt something coming!
Because Buddy ran with his pack his first year of life, he never got used to wearing his collar or harness, and he certainly did not enjoy going for walks on a leash! He had to be carried several houses away to go for a walk or else he would stop cold in his tracks. When he was put on the sidewalk far from home, he ran the entire time, until he made it back to his humble abode.
It may seem crazy, but Buddy had the ability to talk! He would let it be known that he was hungry (all the time!) When he felt ignored, he scratched the wood on the couch bases and kitchen cabinets, to get attention, treats, or a favorite toy. Buddy loved chicken 1/4s dark meat, steak, apples, & carrots. But he was also very fussy and would turn his nose up at soo many treats - even a doggie birthday cake!
Buddy followed his Mom everywhere from the minute they woke til it was finally bedtime. He loved helping Mom when she worked out in the garden, often sitting right in the middle of the spot being dug.
Buddy was a traveler even though he never even really liked driving in the car. He often went to Philadelphia to visit his GrandPop & other family, & friends. He went camping, sat on the beach to watch the sunrise, flew to Arizona for his Sister's graduation from ASU, and even drove to Boston for a wedding.
In January of 2021, Buddy welcomed a new addition to the family, his furry niece Lady, who loved him with all of her heart. Buddy tried his best to keep up with her; together they ate, chased after toys, and excitedly waited at the front door whenever someone arrived, especially Dad, Alex, or Mom!
Buddy was the Best Boy that we could ever ask for! He brought so many years of Love & Happiness to our Home & Family! Buddy will be sorely missed and he will remain in our hearts forever!
❤
"Our pets are the light of our lives and when that light dims, we often struggle. However, their spirit shines on brightly and will guide us as we continue on our journey, a journey full of memories and love."
Rob Mayer
"Animals and Nature give us access to our own vitality yet also teach about the subtleties of untapped potential within. When we lose our animal companions their death gives us a precious opportunity. The ability to reach deep within ourselves and begin again in their honor." Diane Mayer
"What we have once enjoyed we can never lose. All that we love deeply becomes a part of us." Helen Keller