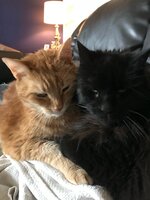 Jules Patton
My first love, my first pet, my sweet baby Jules (Julius Erving) has gone to pet heaven. His life started out rough. Born on November 19, 2006, he was thrown in a dumpster, rescued, and given to me on Valentine's Day of 2006.

He loved to jump up high on things or through openings like windows and he absolutely loved to snuggle, whether it be with me or with his cat siblings. He would wrap his front paws around my neck and let me carry him around. His favorite was being carried outside to see all the sights.
He was so loving and sweet. Black brown fur that only shown brown in the sunlight and bright green eyes that really popped against his fur.
He loved kisses-proper peck ones and licking you with his harsh sandpaper tongue. Although he loved all his siblings, Mylo was his favorite and whom he had the longest time with. Mylo misses him so much now that he and Kelis are both gone.

Almost seventeen years of loving this soul and him loving me. I know I'm forgetting so much more about him now in my grief but knowing he was the best cat is enough for me.
I will think of him and miss him always.

Goodbye my first love, goodbye.