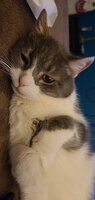 Misty Greene
Our Misty really was one of the sweetest and most gentle cats I have met. She came to us in 2010 at 3 years old from the SPCA and has been a beloved member of our family since. From the moment she first came into our house, she felt at home. When she wanted our attention, she demanded it. She was also very gentile, patient, and just generally great with kids.
She has been my co-worker these past 2+ years. I will miss her sitting on my desk next to my keyboard looking for some pets and love as well as her pestering me come lunch time when I came to my desk with food trying to steal herself a taste. We couldn't go into the bathroom without her following us and jumping in the sink, giving us her soft little meows until we would turn the water on for her.
We will all miss her tremendously, but find some peace in knowing she is once again with her sisters, Susie Q and Roxie. Please watch over all of us, until we meet again my MooMoo at the Rainbow Bridge. Mommy, daddy, Emma, Carolyn and Vincent love you and miss you.