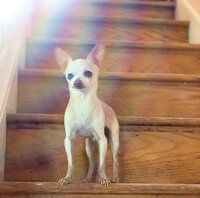 Mojito J. Martinez
Mojito Jones Martinez
2008-2022
The son of LILO and Deebo, Mojito was raised side by side with his mother LILO, for the first 6 years of his life. After LILO's passing, Mojito became the sole beloved pet to many human companions. During his lifetime, Mojito gained 3 siblings; Angelina, John-Michael and Baby Jason who he loved very much. One person he didn't love very much was his father. Mojito believed that his father, Jason, didn't belong in the same room as his mother, Lissette. If Jason would kiss or hug Lissette, Jason would be growled at and would try to take a bite out of him. On the night Baby Jason was born at home, Mojito sensed Lissette's impending birth and didn't leave her side all day or even post-partum. He slept next to his momma, Lissette and the new baby.
Mojito was an avid traveler; visiting cities like Los Angeles, Anaheim, San Diego, Lake Arrowhead, El Paso, Palm Springs, Las Vegas, New York, Jersey Shore, Miami, Naples, and his home of Havertown, PA. Mojito preferred warm weather destinations. He was a warm weather dog through and through. During cold snaps and snow storms, Mojito would refuse to go relieve himself outdoors. He also didn't like wooden floors, which is all over his home.
Mojito was a beloved member of our family and we will cherish our memories with him. We thank him for his dedication to our family and will remember him and his guard dog ways forever! We Miss You Mojito!