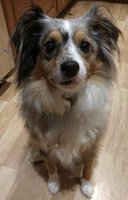 Harley Seidman
Harley was so loved. He loved cuddling with his human siblings Maddie and Bradley. His favorite activity was knocking over the garbage can and eating whatever he could find. He loved to bark at everything and anything, especially people walking by the house and those silly foxes and squirrels that had the nerve to come into his yard. Harley was the best birthday present Maddie could have ever asked for. He is truly missed.
"Your absence has gone through me
Like thread through a needle.
Everything I do is stitched with its color."
~ W.S. Merwin