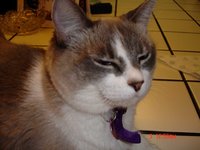 Phoebe Schuller
Phoebe
Born September 2000
Died January 25, 2019
Shy, but loved by all including her sister cat Gracie, and her extended family the Schnauzers, Sam and Molly.
Loved her bowl of cream, plate of marinara sauce, all types of cat food. Also loved Mac & Cheese and meats.
Favorite activities were laying in the sun and wrestling with Gracie every morning and evening.
Dated Sam for 10+ years but eventually settled down with Molly which broke Sam's heart.
She will be missed by all! Now she guards the Rainbow Bridge and collects all the tolls.