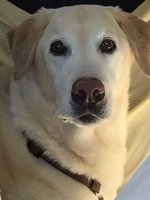 Zane Phillips
The more beautiful and abundant the memories - the more difficult the separation.But the gratitude of having shared part of the journey transforms the pain into a quiet joy. And one carries the past not like a thorn but like a precious gift within oneself.
-Dietrich Bonhoeffer
A dog is the only thing on earth that loves you more than he loves himself.
-Josh Billings
Everyone thinks they have the best dog... and none of them are wrong.
-W.R. Purche
Zane came into our lives unexpectedly through the generosity of friends and family during the summer of 2005. Little did we know the impact this dog would have on our lives. Zane gave us all love, companionship, protection, comfort, and memories that we will cherish for the rest of our lives. Zane was more than a dog. He was family. Our hearts are broken, and he will be greatly missed. Zane's family is forever grateful that we got to spend the last 13 ½ years with him in our lives. To quote our grandmother before her passing about Zane.… "Love That Dog".