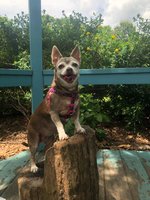 Coconut Selig
Coconut Selig passed away peacefully on Saturday August 3, 2019. Coconut was approximately 17 years old.
Coconut was rescued by her loving family on February 1st, 2018. She was originally from Texas where she was scheduled to be put to sleep if it weren't for Delaware Humane insisting on having her transported to them. She was originally fostered by her mother's grandparents, and that is when her mom and dad fell in love with her and adopted her.
Coconut loved walks with her family. She enjoyed her travels to the mountains in Northern Pennsylvania, beach trips, and the Lehigh Valley to her "second home".
Coconut was a very loving and happy chihuahua who lived her life to the fullest. Her piglet snort will be greatly missed by all who knew her.
She is survived by her loving sister, Luna Rose Selig, and MANY Aunt and Uncle chihuahuas.
Mommy and Daddy love you to the moon and back coconut. We will one day see you on the other side of the rainbow bridge.