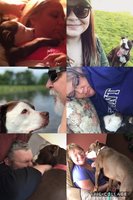 Lilly Birmingham
On August 14th, 2010, the Birmingham family got bigger and better as 8 week old French Mastiff/Pit Bull "Lilly" entered their lives. She was floppy, and spunky, and loved her fur siblings Daisy and Rocky. She followed them around, mimicking every annoying thing you would expect from a little sister - playfully biting, sniffing, sleeping on them, and naturally - annoying them. It was so endearing to watch. As Lilly got older and found her independence, she discovered her love for adventures and all things fun and high energy. The things that made Lilly most happy were cuddles with her family, tennis balls - sometimes upwards of 3 in her mouth at one time, bones with peanut butter, kayak rides, walks, harassing the mailman, lots of face licking and sleeping tucked under the covers.
One of the most memorable things her family will remember her for was how she aided in saving their beloved Terri's life. Lilly's human Aunt, Terri, suffers from Alzheimer's disease and seizures. Lilly worked really hard to keep Aunt Terri safe and alerted her family that a seizure was in progress by barking and drawing attention to what was happening. If it weren't for Lilly, Aunt Terri's condition could have resulted in much worse circumstances, but because Lilly was relentless, Terri was discovered before it was too late. Lilly's family was once told that if she started training at a younger age she would have made an incredible service dog. Well, training or no training, this girl was smart, intuitive, and did anything to protect her family.
Fast forward almost full circle, 9 years later on August 12, 2019, Lilly crossed over the Rainbow Bridge. Sadly her Lymphoma got the best of her body, but she never lost her rambunctious spirit. One of the greatest acts of unconditional love a family can provide their fur baby is to know when to end their suffering, no matter how bad it hurts. Lilly's love and devotion to her family's happiness was timeless, and her memory will leave paw prints on their hearts, furever.
Lilly's family - John, Debbie, Tiffany, Brittany, Walter and Terri - would like to encourage everyone to give Pit Bulls a chance. They are loving creatures that deserve good homes, not bad reputations.