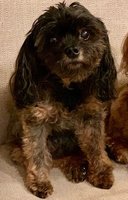 Madie Vagnozzi
Madie joined the Vagnozzi family on February 14th, 2006. It was Valentine's Day and she stole our hearts for the next 14 years. Madie was loved by all, but especially her two human brothers who adored her. She will be missed by her fur sister, Stella, who bossy at times, still waited on Madie's every move. Madie's favorite past time was sleeping in bed with her family, eating popcorn and going to Mom Mom's to eat toast and butter and licking the faces of everyone she met. Madie loved to hang out at her mom's hair salon and greet the guests as they checked in and checked out. Her ability to always look like a puppy made her extra sweet.
Madie was our little girl trapped in a dog suit and there will never be another like her.
"Sorrow is how we learn to love. Your heart isn't breaking. It hurts because it's getting larger. The larger it gets, the more love it holds."
- Rita Mae Brown, Mrs. Murphy