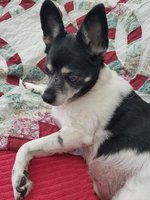 Bosley Novak
"Don't cry because it's over, Smile because it happened." – Dr. Seuss
Bosley's full name was Bosley Jack. Born on November 8, 2003, we brought him home when he was only 3 weeks old.
He immediately became a mommy's boy, sleeping with me all the time and loving to burrow under the blankets sometimes sleeping in the bend of my knees or stomach.
Everyone knew Bosley as he loved people, especially children. But he didn't always get along with other dogs, only having 3 or 4 through the years that were his friends.
His cat-brother, Cruiser, has been with him since 2009, and he had basically trained him to act like a dog. But we believe that is because Bosley thought he was human.
He will be missed more than anyone can ever imagine.